EPE International Awarded Best Consumer Brands Distributor in the Northern Enterprise Awards
EPE International, the UK's leading Distributor of Consumer Brands has been awarded 'Best Consumer Brands Distributor' in the latest Northern Enterprise Awards. 
The Northern Enterprise Awards, brought to you by SME News celebrates the industriousness and the dedication of the businesses and enterprises hailing from the north of England. With a dominant offering in the service sector, manufacturing and a flourishing SME and business start-up environment, businesses in the north are clearly worthy of commendation and recognition. Accounting for over 99% of the business population in the country, SMEs play an essential part in keeping the UK's economy afloat. With business owners coming on leaps and bounds after a turbulent couple of years, small-to-medium enterprises in the UK are thriving.
EPE International CEO, Noel Pamment said:
"It's an honour that we have been recognised as the 'Best consumer brands distributor' in the Northern Enterprise awards. This prestigious award adds to the many accolades EPE have collected over the last 2 decades and fortifies EPE's status as the UK's leading distributor of consumer brands. I would like to thank all of our staff, customers and brands for their continued support."
SME News Awards Coordinator, Kaven Cooper said:
 "I am happy to have had the pleasure of hosting this year's Northern Enterprise Awards and I look forward to seeing what these companies do next. They are all part of our journey as humankind, and there are plenty of businesses here than can elevate our quality of life. Well done to every last one of them."
Click here to see EPE's award –  https://www.sme-news.co.uk/winners/epe-international-ltd/
Noel Pamment, CEO at EPE International (Pictured left) & Harry Singh, Managing Director at EPE International (Pictured right)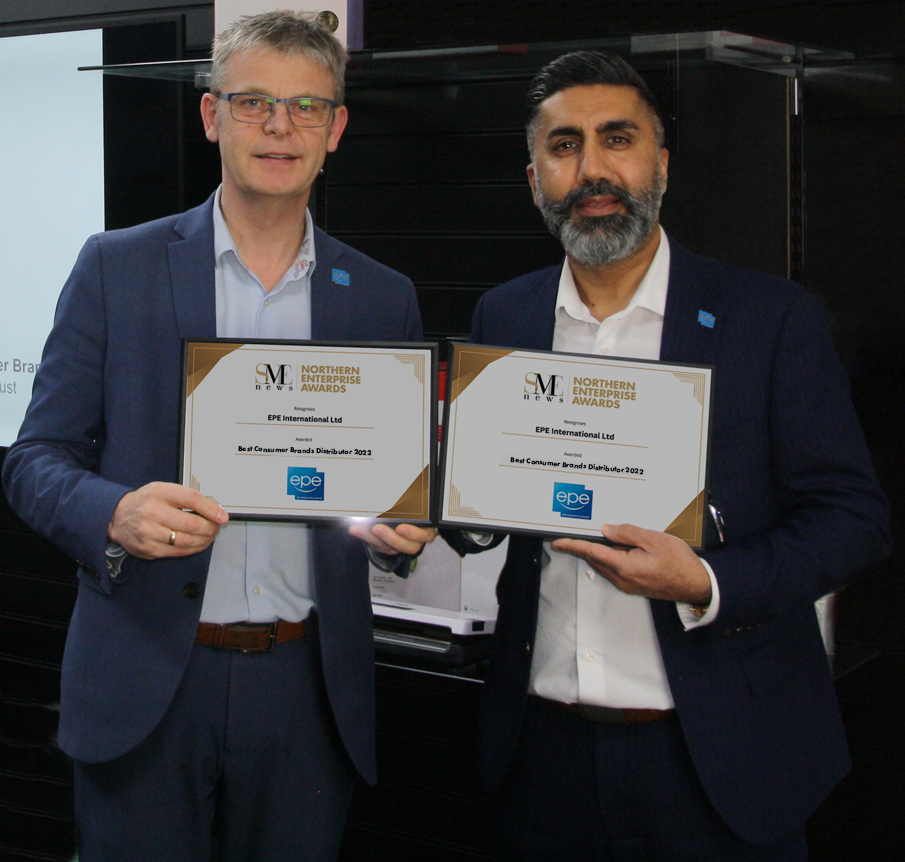 10th January 2022