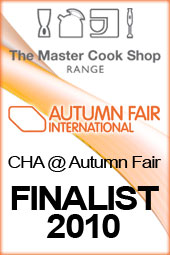 EPE are exhibiting at the Autumn Fair this month at the NEC arena in Birmingham and hosting Septembers Master Cook Shop Event from the 13th to the 24th of September. If you miss us at the NEC visit us during The Master Cook Shop Event for an unmissable buying opportunity
The Autumn Fair gives us the perfect opportunity to showcase our premium products and exclusive lines to potential clients and the retail sector as a whole. Remaining consistent in our success we have yet again won another award, being awarded the CHA @ Autumn Fair Finalist 2010.
Septembers Master Cook Shop Event provides our customers with unmatched buying opportunities on our extensive Breakfast, Food Prep, Table Top, Hostess, Dessert, Coffee, Cookware & Linen care ranges and also gives account holders valuable incentives such as exclusive lock in prices to prepare for the Christmas rush with committed quantity stock orders.
Click Here to see our CHA @ Autumn Fair Certificate