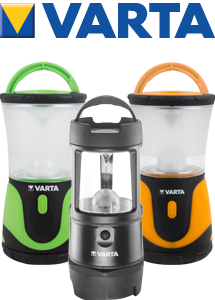 Varta Outdoor Lamp and Camping Range
With the peak of the outdoor festival season approaching Varta's new lines of lamps, lights and portable power are key products to stock this summer
Varta are one of the leaders in the world of batteries and portable lighting.
The range includes the indestructible torches and lanterns, sports headlamps, camping lanterns and portable power.
Varta also offer a pre filled display stand which contains the majority of the above as well as a selection of AA, AAA and D shape batteries.
For more information about the Varta products visit their website.
To find out how you can stock these new lines please speak to our sales team by calling 0844 800 8055 or email sales@epeinternational.com
13th April 2017