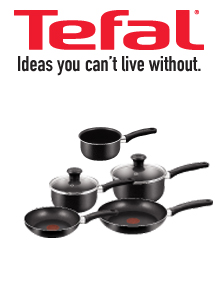 Be Delighted With The New Tefal Delight Panset
Tefal have brought you a newer version of the Delight Panset.
The 5 piece pan set contains 20cm and 24cm frying pans, 14cm milk along with 16cm and 18cm sauce pants.
The frying pans feature Tefal's Thermo-Spot just so you know when it is hot enough for you to cook.
These pans are suitable for both gas and electric hobs and are dishwasher safe.
For more information on this product and to order please speak to our sales team by calling 0844 800 8055 or email sales@epeinternational.com
9th October 2017