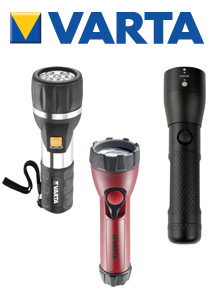 Varta Light Up The Dark
Varta have released 3 new lines in their flashlight range.
The LED Daylight Torch 2D has a great range of 63m and outputs and impressive 58 Lumens and a long lasting runtime of 140-Hours.
The industrial Focus Control LED is waterproof up to 1M and resistant to Oil, Petrol and Diesel.
With a strong range of 132m and a 4-hour run time this LED torch produces 120 Lumens.
The 3 Watt LED High Optics Flash Light has the biggest range of all 3 models at a massive 141m, this model is also water resistant and has a strobe mode with a slideable focus head.
With a 26-hour runtime and 200 lumens this flashlight is full of amazing features.
For more information on these products and to order please speak to our sales team by calling 0844 800 8055 or email sales@epeinternational.com
15th November 2017