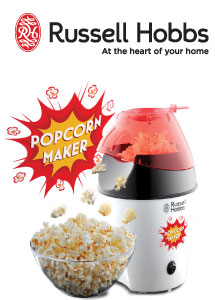 Russell Hobbs has the Film Lovers in Mind.
The new Food Collection Popcorn Maker, this is a must have for all film lovers, the no fuss and easy to use popcorn maker uses hot air technology so there is no need for fat or oil.
You can make up to 12 cups of popcorn from 35-50g, with a removable a cover cleaning is made easier. The 24630 Popcorn Maker also features a butter-melting tray to give you the buttery popcorn you love from the cinemas.
For more information on this product and to order please speak to our sales team by calling 0844 800 8055 or email sales@epeinternational.com
22nd June 2017