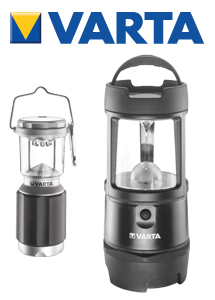 Varta Outdoor Lanterns To Guide The Way
Varta bring you 2 new lanterns both with LED lights.
The LED XS Camping Lantern is perfect for saving space; with a 32m range they can light up a wide area with 24 lumens and 15-hour runtime.
The Indestructible 5 Watt LED Lantern has a 13m range but a large 280-hour runtime and 280 Lumens this light is perfect for the smaller campsite.
For more information on these products and to order please speak to our sales team by calling 0844 800 8055 or email sales@epeinternational.com
17th November 2017