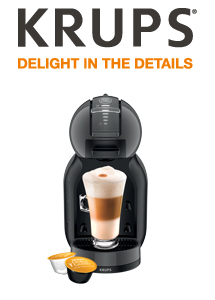 Witness the Arrival of the New Krups Mini Me
The new Krups Mini Me features a 15 bar pump pressure, 0.8L tank capacity and Auto Stop feature.
The KP120840 comes with 6 capsules.
From the 28th of September 2017 until the 31st of May 2018 you can redeem £30 Web Shop Credit at www.dolce-gusto.co.uk.
For more information on this product and to order please speak to our sales team by calling 0844 800 8055 or email sales@epeinternational.com
22nd September 2017