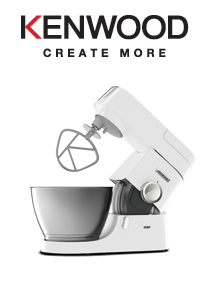 The Chef kitchen machines from Kenwood are some of the most iconic kitchen appliances in the world.
Kenwood bring you a new design for 2017.
The KVC3100WH has 3 outlets Slow for grinding, rolling and pressing. High for blending and food processing. Bowl for mixing, whisking and kneading.
Featuring a 1000W motor and a 4.6L bowl the new Chef has 8 speeds.
For more information on this product and to order please speak to our sales team by calling 0844 800 8055 or email sales@epeinternational.com
20th July 2017