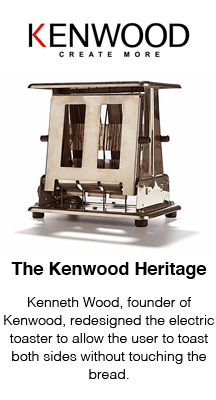 Kenwood have proudly been designing and manufacturing cutting edge, stylish and efficient kitchen appliances since 1947.
As the expert in food preparation, their focus is to ensure every Kenwood product enhances your enjoyment of cooking, producing consistently high quality results with the greatest of ease.
Whichever Kenwood product you choose, you can be sure to create the perfect dish every time.
Be inspired
With the confidence to prepare great food for all occasions, you will find the versatility of their products really helps you to create more. You will quickly discover new ideas, new dishes and new recipes to make every meal special.
Thanks to its timeless design, your Kenwood product will continue to grace your kitchen over generations. Our appliances' looks are as durable as their quality build, guaranteeing an astute investment that will continue to delight years after years.