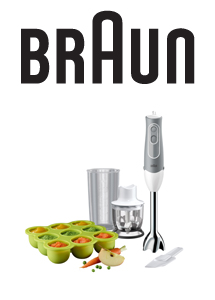 The New Braun MQ523 Baby is here.
Prepare & Freeze, small & big portions perfect for a happy healthy baby.
This hand blender comes with a clever range if BPA free accessories protecting your child's health.
The MQ523 Baby has 2 speeds and a POWERBell Plus – Extra Milling Blade.
Also included as a plastic beaker, chopper and dishwasher safe – freezer container by Mushy Mushy.
For more information on these products and to order please speak to our sales team by calling 0844 800 8055 or email sales@epeinternational.com
4th December 2017