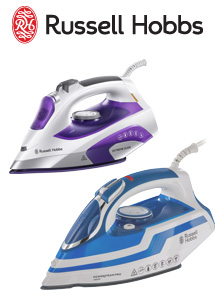 The new Fabric Care range from Russell Hobbs features two new irons.
The Extreme Glide Iron (21530) features; 2400W, Ceramic Soleplate, Auto Off and Anti-Drip. Designed with a sleek look this White and Purple iron looks the business to do the business.
The second newcomer is the Power Steam Pro Iron (20631) which features; 2600W a Ceramic Soleplate, Auto Off, Anti Drip and Self Clean function.
The 20631 is stylish and is here to help you get through your mountain of ironing.
For more information on this product and to order please speak to our sales team by calling 0844 800 8055 or email sales@epeinternational.com
14th July 2017