8 December 2014 09:46:12 GMT 
Russell Hobbs has identified that in a small number of isolated cases, Russell Hobbs irons manufactured between October 2012 and June 2013 and bearing the model numbers listed below carry a risk that the flex may fail, potentially resulting in injury.
Only the following model numbers may be affected:
18651, 18742, 19220, 19221, 18743, 19840, 18720, 15081, 19222, 19400, 20260, 18741, 20280, 20550-10, 20560-10    
EPE International have supplied only the following Irons 15081, 18651 & 20280 from the affected models above.
Model numbers are located on the underside of the heel of the iron where you will find a rectangular shaped label containing various product manufacturing information.
If you have one of the iron models listed above, you will also need to check the batch number (as shown on the below image).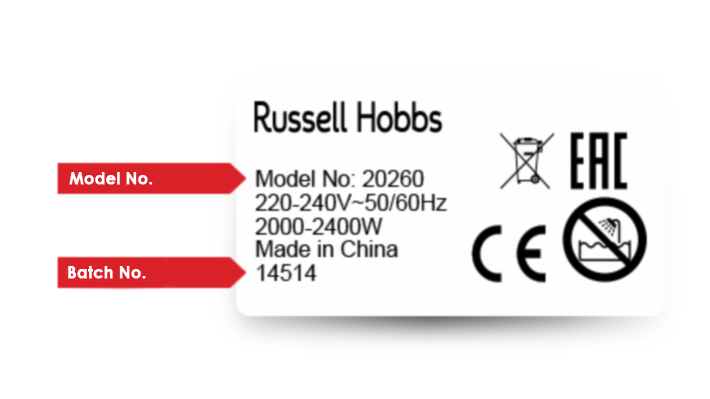 If your batch no. starts with 045 through to 365 and ends with 12 or starts with 001 through to 195 and ends with 13, then you have an affected iron.
Any numbers outside this range are not affected.
If you have stock of the affected models 15081, 18651 & 20280 purchased from EPE international in your retail outlet or warehouse, please contact EPE International returns on 0844 800 8055 or returns@epeinternational.com to arrange uplift and credit.
Please ensure you are only returning stock from the affected batches as credit will not be issued for stock that doesn't fall within the recall.
End users who have an affected iron should be advised to stop using it immediately and to telephone the Russell Hobbs customer service department on Freephone 0800 307 7616 (or 0333 103 9663 if calling from a mobile) who will advise on how to return irons for a replacement or full refund of the purchase price.
We would like to thank you for your co-operation and apologise for any inconvenience.
No other Russell Hobbs products or irons outside of the above codes are affected by this recall.