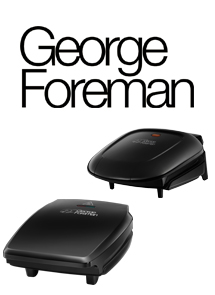 The compact range from George Foreman provides the same great quality as the larger models.
The 18840 2-portion compact grill features thicker grill plates for more efficient heat up, Non-stick coating and floating hinge.
Designed to be stored up right to free up counter space and with a perfect fit drip tray to reduce mess.
Following Suite with a compact design is the 23410 3-portion compact grills, featuring the same key points as the 18840. These compact grills are perfect for young professionals and students alike.
For more information on this product and to order please speak to our sales team by calling 0844 800 8055 or email sales@epeinternational.com
20th September 2017