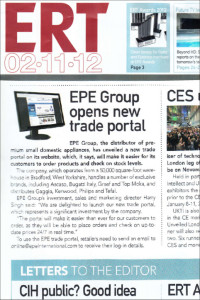 EPE were in the news again this week as the new EPE Trade site portal goes live!
ERT had the following press release:
EPE Group, the leading distributor of premium small domestic appliances, has unveiled a new trade portal on its website, which will make it easier than ever for its customers to order products and check on stock levels.
The company, which operates from a 50,000 square feet warehouse in Bradford, handles a number of exclusive brands including Ascaso, Bugatti Italy, Graef and Top Moka, and distributes Gaggia, Kenwood, Philipsl and Tefal.
Harry Singh, EPE's Group's investment, sales and marketing director, said: "We are delighted to launch our new trade portal which represents a significant investment by the company.
"The portal will make it easier than ever for our customers to order, as customers will be able to place orders and check on up-to-date prices 24/7, in real-time."
To use the EPE trade portal, retailers need to send an email to online@epeinternational.com to receive their log-in details.