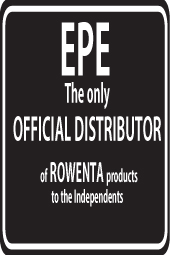 EPE have yet again proved they are The UK's Leading Premium SDA and Cookware Distributor as they add Rowenta products to their EPE Exclusive list.
EPE now stock a range of Rowenta products including the Steamium iron, Garment Steamer and the Liberty Press.
The EPE Exclusive range can be viewed in this months Buyers Choice on page 25-26.