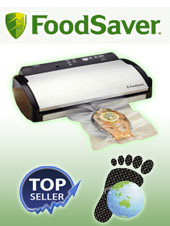 Food Savers range of Vacuum Sealer products has helped millions of households reduce food waste and their carbon footprint.
The FoodSaver System is designed to remove air and extend the freshness of food up to five times longer than conventional storage methods. Food that is usually wasted can now be stored over longer periods of time using Food Saver's home vacuum packaging systems. In the UK we spend £10.2 Billion each year buying and wasting good food. At an average of £420 per household Food Savers products offers a much needed simple solution to reduce your food waste.
Click here to learn about the uses and benefits of Food Saver vacuum sealers.