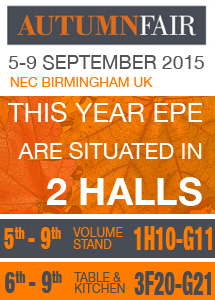 EPE are returning to the autumn fair this year Exhibiting form the 5th – 9th September, with more products and a bigger presence. This year sees EPE taking a different and completely new approach to last year, exhibiting in 2 Halls on 2 new stands. One in the Volume Hall – stand 1H10-G11 & one in Hall 3 – stand 3F20-G21.
This new investment shows EPE working with Focal Exhibitions to create truly bespoke stand designs. Focal Exhibitions have worked with some big names at the Autumn Fair in previous years. EPE again making further growth with in the SDA market with more contributions coming from brand partnerships following the additions of Bissell and Blendtec to the EPE portfolio. it is with partnerships like these and working closely with the brands that help EPE to create and maintain the dominant presence in the SDA market and at exhibitions like the Autumn Fair.

So once again its is with great pleasure that EPE extend a warm invitation to visit them at the show.
why not stop by for a chat with one of the experienced sales representatives to hear about the latest deals they have to offer? With all NEW product lines and EPE exclusives that will be showcased for Autumn 2015, not forgetting EPE's premium product portfolio. Don't miss this opportunity to meet face to face with the UK's leading Premium Branded SDA distributor, EPE are proud to present to you the most premium brands and the most choice under one distribution in the UK all under one roof at the NEC Autumn Fair.
This is one event you wont want to miss!