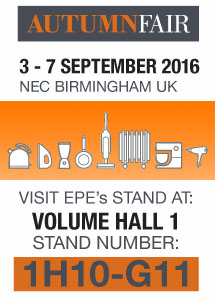 EPE return to the Autumn Fair this year Exhibiting form the 3rd – 7th September, with more products. EPE will be situated in the Volume Hall – Stand 1H10-G11.
It is with great pleasure that EPE extend a warm invitation to visit them at the show.
why not stop by for a chat with one of the experienced sales representatives to hear about the latest deals they have to offer? With all NEW product lines and EPE exclusives that will be showcased for Autumn 2016, not forgetting EPE's premium product portfolio. Don't miss this opportunity to meet face to face with the UK's leading Premium Branded SDA distributor, EPE are proud to present to you the most premium brands and the most choice under one distribution in the UK all under one roof at the NEC Autumn Fair.
This is one event you wont want to miss!