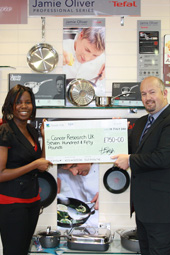 Chrystal Augustine of our Sales Support team and David Caswell our National Sales & Development Manager present a cheque for £750 to Cancer Research UK.
EPE often contribute to this worthy cause giving a healthy percentage of profits from various offers, deals, and promotions run by the company. Chrystal recently lead a successful campaign with the Jamie Oliver Copper Heart Cookware range by Tefal with various customers & cookware retailers, thanks to the flourishing campaign, using donations per order to raise funds, we have been able to make a generous donation. Due to Chrystals recent effort and accomplishment her position has been promoted to EPE's Sales Account Executive. EPE would like to thank all of its customers for helping us actively support Cancer Research UK and fund the immeasurable research and development they carry out.
Click here to see Chrystal and David presenting the cheque. Click here to make a donation.
Click here to see a letter of thanks from CRUK's Simon O'Leary