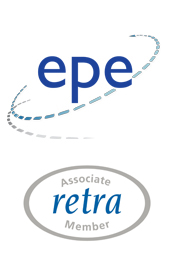 EPE exhibited at their first RETRA the (radio, electrical and television retailer's association)
Trade Show at The Bridge Hotel, Wetherby, it gave EPE the opportunity to meet with Associate members and exhibit and introduce their products and the company to Retra dealer members.
RETRA hold numerous trade shows for their members throughout the year up and down the country. The show was EPE's first step in building strong working relationships with the RETRA team and all its members.