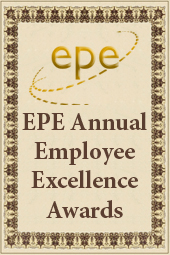 The EPE Annual Employee Excellence Awards presented at the end of EPE's fiscal year were designed as a recognition of merit for our most esteemed staff members, focusing on excellence in market knowledge, product knowledge, commitment & loyalty.
EPE Managing Director Noel Pamment presented the awards to our valued staff, commenting on the accolades Noel Pamment said "As a small token of our appreciation, I am happy to present Ray Swarbrick, Kal Singh & John Williams, who have been with EPE since its founding in 2003, and Sam Rogan with the awards. Their excellence in their own field of expertise & fidelity to the company make them invaluable to EPE, and for this we are happy to show our gratitude. We wish them the best of luck & further sucess in the future."
Click Here to see Noel Pamment presenting the awards.