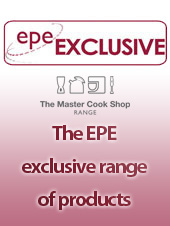 Become an "EPE exclusive" stockist of products and receive profiles at additional promotional prices.
EPE are proud to be able to exclusively supply premium products from leading brands and manufacturers in the market, offering the best SDA and cookware in the UK, such as the Gordon Ramsay Professional Range, the Kenwood Kmix family & Tefal Jamie Oliver Cookware.
In the near future become a stockist of EPE's exclusive product ranges to purchase them at additional privileged promotional prices.
Click here to contact support for EPE exclusive product ranges.