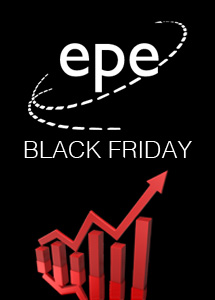 The run up to Black Friday saw phenomenal growth with EPE receiving high volumes of calls for the latest and best offers  available in The Buyer's Choice. EPE were also able to offer their customers a range of products available only from our internal sales team, as well as the numerous email campaigns sent out to customers highlighting the best picks for Black Friday.
It was recognised that the smaller scaled retailers were enabled to compete with the majors not only with the offers available, but the support from EPE with all black Friday orders being despatched together, helping to ensure that the market didn't become flooded with the products & deals on offer before the big day.
Our sales reps and internal sales team were kept busy with the high influx of orders, this influx of orders didn't stop our distribution team hitting their targets ensuring that all order were received ready for Black Friday.
It's a thank you from us and a thank you from them.
Our new January sales lines have now been launched and are available to order, don't miss them in our December edition of 'The buyer's Choice'."