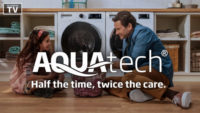 Our Strategic Brand Partners Beko launched a new TV laundry campaign to raise awareness for their new laundry technology Aquatech.
"Keval Shah, Head of Marketing at Beko plc UK & Ireland said; "AquaTech is the biggest launch of the year for Beko, and this is evident in the strategic marketing plan we've developed. We're aiming to reach as many households as possible during peak season for laundry sales, through as many touch points as possible."
Check out the full article in IER below.
We hope to continue to work closely with our brand partners as they continue to make innovative strides within the industry.