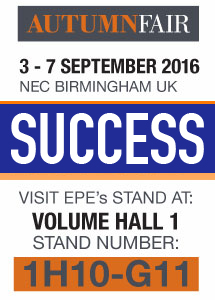 EPE are delighted to announce that this years NEC Autumn Fair was another huge success and it was a pleasure to see so many customers.
EPE dominated the show with premium branded products and competitive prices on many products from our portfolio. Some of the Autumn Fair offer product lines had sold through within the first 2 hours, after the doors opened on the first day. Sales are up on last years Autumn Fair which is showing promising growth into the final quarter of 2016.
EPE look forward to seeing everyone again next year when they will return bigger and even better with further range expansions and more competitive prices.