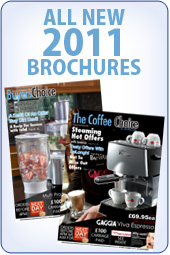 We will be starting the new year running with the launch of our all new format Buyers Choice and Coffee Choice brochures. Feedback and consumer research revealed a new opportunity we are eager to harness and engineer into a successful new venture, the brochures will take on a journal format including tips and market information that we consider essential for our independent & premium end retailers going forward in 2011.
After discussion with a handful of our most influential customers and associates it quickly became apparent that the next step towards growth and progress for EPE was to approach our brochures as a journal or editorial production. Coupled with the new year we will be launching the newly designed Buyers Choice & Coffee Choice catalogue featuring industry news, reviews, tips, activities, recent events & articles.
This is one brochure you wont want to miss!
Click here to find out more about or brochures and order your copy today!