Coronavirus Update from EPE International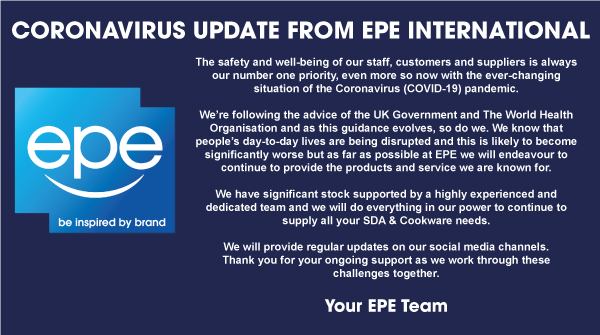 ---
20th March 2020
EPE MD, Harry Singh congratulates Goods In Manager, John Williams on 14 years at EPE
EPE Managing Director, Harry Singh would like to congratulate John Williams, Goods In Manager on 14 years of service at EPE.
John has been an integral part of the warehouse operations from EPE's early years and has continued to be a key player within our Warehouse team ever since.
Congratulations John on 14 years with the EPE team!
---
20th March 2020
Happy Birthday to EPE's Brand & Company Marketing Executive, Mitali Mistry 🎂
The EPE team celebrated Mitali Mistry, EPE's Brand & Company Marketing Executives' birthday!
Mitali maintains EPE's brand identity, ensuring our brand integrity is consistent across all channels…It is a true pleasure to have her on the team!
Happy Birthday and we hope you had a wonderful day Mitali, from all at EPE! 🎈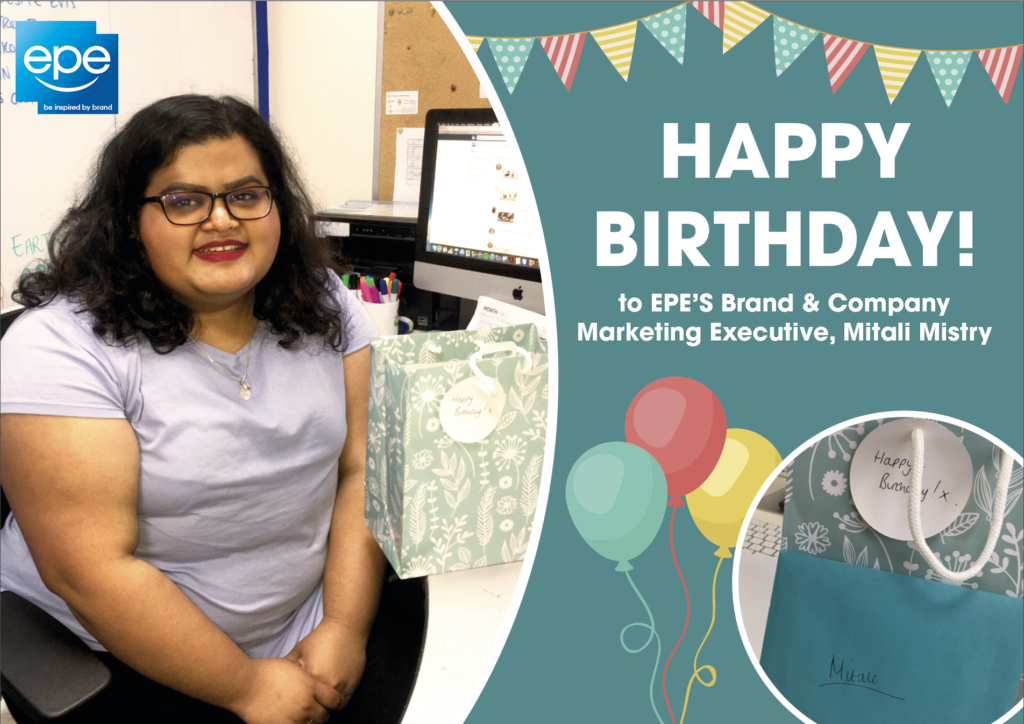 ---
16th March 2020
The EPE team set up their stand at the Home Hardware Spring Trade Show
The EPE team have been busy setting up the Home Hardware Spring Trade Show in Westpoint, Exeter last night and this morning.
EPE Sales Director, Clive Barstow and RSM South West, Steve Esplin are ready to meet lots of customers old and new at the show and introduce them to lots of new products that we will be showcasing on stand.
Keep your eyes peeled for more updates from our team throughout the day!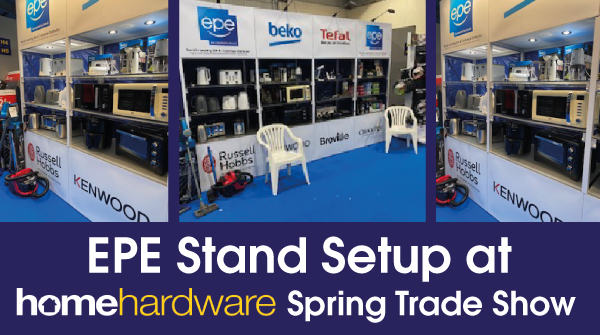 ---
10th March 2020
Happy Employee Appreciation Day!
Happy Employee Appreciation Day to all of the EPE team!
We appreciate everything you do and how hard you all work to keep things running smoothly at EPE.
We couldn't do what we do without you!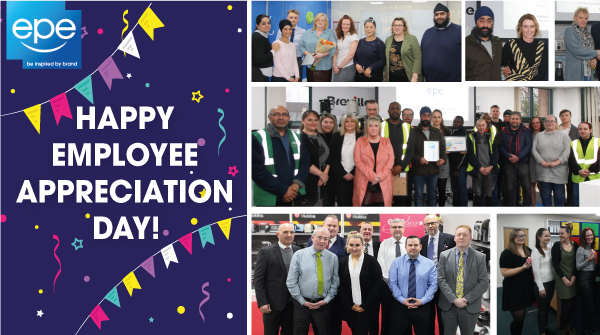 ---
6th March 2020
EPE's new product launches at The Housewares Show
The EPE team has had a brilliant few days at The Housewares Show hosted by AIS in Solihull.
The show was a brilliant platform to launch lots of new products for 2020 from our brands like the Beko Power Clean Cordless Stick 2 in 1 Vacuum Cleaner to our customers.
The customers attending the show were really impressed with the Beko Power Clean and its fantastic suction power as one of the lightest and most flexible cordless vacuum cleaners launched by EPE strategic brand partners Beko to date. One of the most innovative cordless vacuum cleaners for 2020; the Beko Power Clean is perfect for providing a superior cordless cleaning experience and the high performing HEPA 10 filter helps improve the air quality making it ideal for consumers with allergies.
The customers could also really immerse themselves in a high quality coffee experience, indulging in coffee from EPE's brand partner Melitta and the new bean to cup coffee machines that we were showcasing on stand, with National Account Manager for Melitta, David Price on hand to answer any questions and give some key insight on the Melitta brand.
Overall, it was a successful few days on stand. The EPE team will be showcasing lots of brilliant new products at more shows in the coming months and we can't wait to share more of these products from our inspiring brands with our customers.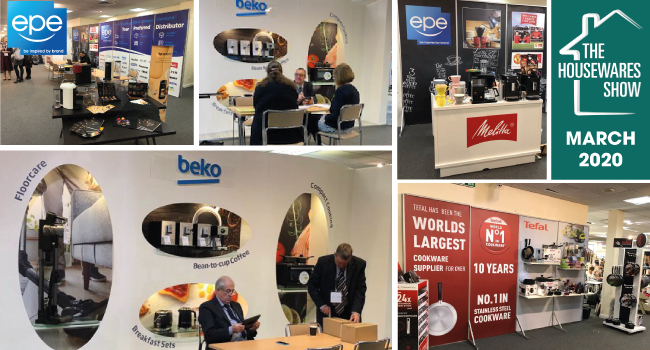 ---
5th March 2020
The Nespresso Spring Vertuo Promotion 2020
Our brand partners Nespresso are now offering 100 free capsules plus a free on-the-go mug to consumers purchasing a Nespresso Vertuo machine.
Do you stock the Vertuo? Maximise your sales and request your FREE POS and digital assets to promote this campaign to your customers by simply speaking to your dedicated EPE sales representative now!
Contact us now on 0844 800 8055 to become a stockist or click here to order the Vertuo directly from our trade site.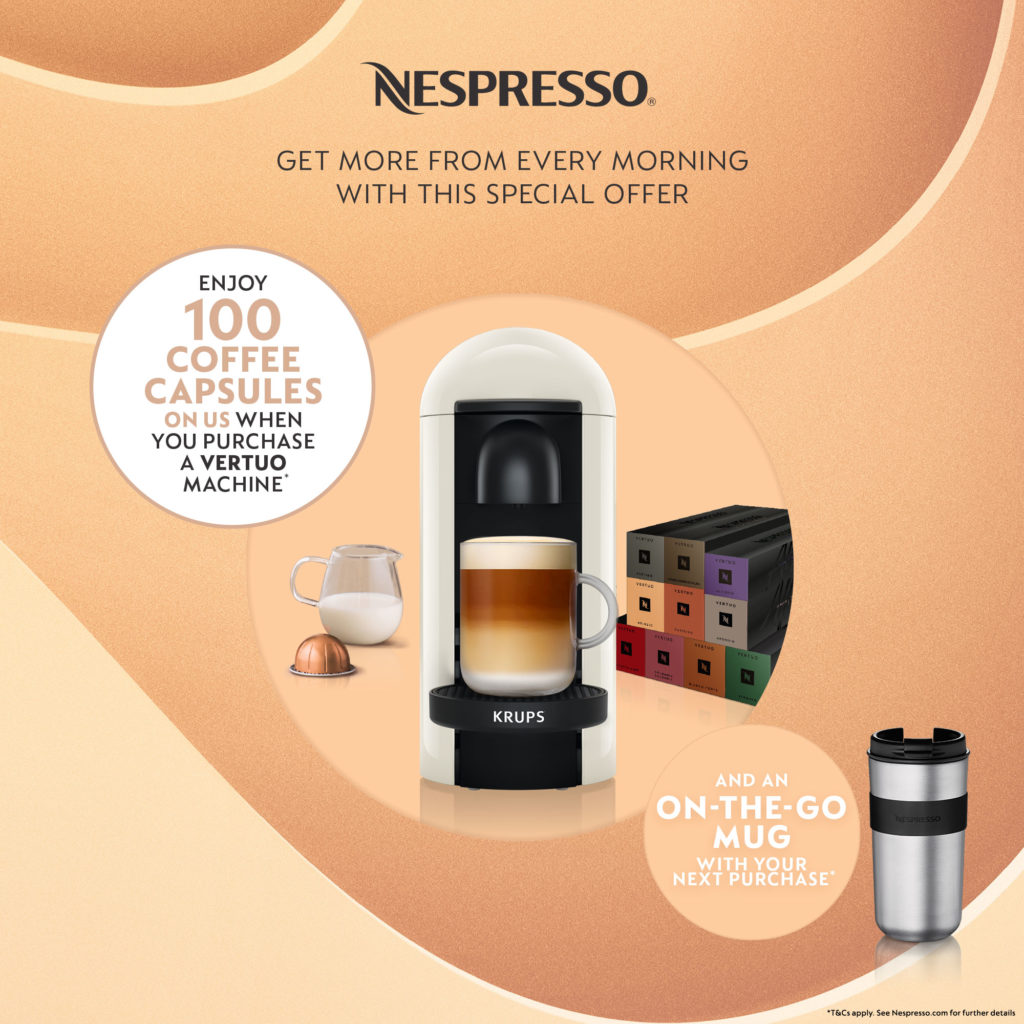 ---
4th March 2020
A message from the Sales Director: Beko Product Training at EPE HQ
Date: 28th February 2020
Venue: EPE Head Office
Last Friday, we had the pleasure of welcoming our strategic brand partner Beko's training team to the EPE head office to train our sales team on their new product ranges for 2020.
It was a fantastic opportunity for the team to learn about the new products. Especially the new Beko Power Clean Cordless Stick 2 in 1 Vacuum cleaner; the most powerful cordless vacuum yet from Beko with a strong 165w of suction power and a 45 minute run time. The newest edition to Beko's extensive floor care range is the most lightweight and most flexible yet making it it portable and easy to use. Not to mention it's self standing feature that allows it to remain upright even when freestanding away from its docking station.
The team were very enthusiastic to be able to share their now extensive knowledge with their customers.
Clive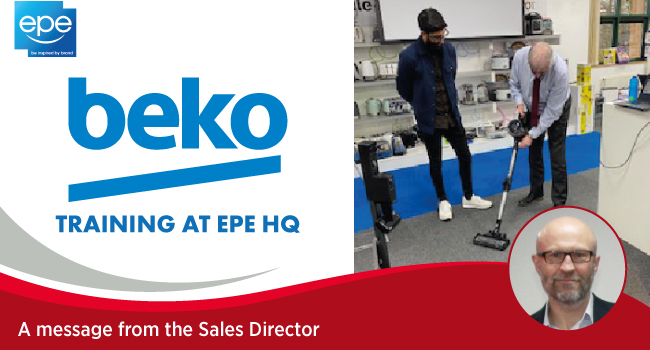 ---
3rd March 2020
The EPE March 2020 Promotions Brochure is Out Now!
The EPE March Promotions brochure is now available in print format and for digital download.
Big Brands, Massive Savings & packed full of mega deals… don't miss out!
If you would like to start receiving the Promotions Brochure please contact our sales team for more information on 0844 800 8055 or sales@epeinternational.com
For full product ranges please see our Buyers Choice catalogue.