Revolution Slider Error: Slider with alias default not found.

Maybe you mean: 'TopBanner' or 'products_slider' or 'InfoSlider' or 'kenwood' or 'braun' or 'delonghi' or 'karcher-2' or 'aeg' or 'dreamland' or 'philips' or 'russell-hobbs' or 'tefal' or 'breville' or 'hoover' or 'numatic' or 'bionaire' or 'bosch' or 'crockpot' or 'georgeforeman' or 'hostess' or 'jamesmartin' or 'krups' or 'panasonic' or 'rowenta' or 'varta' or 'wahl' or 'TopBanner' or 'beko' or 'sirius-buying-group' or 'bira' or 'ais' or 'home-hardware' or 'mica' or 'euronics' or 'cih' or 'highstreettv' or 'international-shows' or 'ambiente' or 'autumn-fair' or 'spring-fair' or 'exclusively-electrical' or 'DPDBanner' or 'dimplex' or 'rayovac' or 'salter' or 'News-Rewards' or 'slider2'

This is a notice to all EPE customers and suppliers.
Recently EPE was the target of attempted fraud, fortunately EPE International Limited caught this in time.
We have since reported this fraudulent attempt to Action Fraud and are working with them to prevent any future attempts.
As we all know it is the time of year where fraud becomes a common occurrence in business as people become desperate.
It is with the help of our customers and our suppliers that we wish to prevent any further attempts.
If you have any suspision of fraud and you have received communication from a company claiming to be EPE International Limited
then please report this to Action Fraud now with the reference –
REF: NFRC1612 01660282
by calling Action Fraud on: 0300 123 2040 or Visiting the website: www.actionfraud.police.uk
There is further information on identifying fraud on the Action Fraud website.
Thank you for your continued support & co-operation.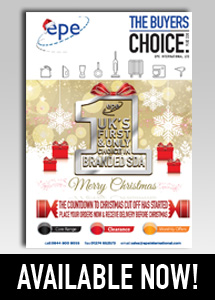 Decembers Buyers Choice Now Available!
The December Buyers Choice is now available in print format and for digital download.
If you would like to start receiving the Buyers Choice please contact our sales team for more information.