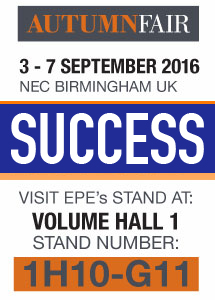 Autumn Fair Success 2016
EPE are delighted to announce that this years NEC Autumn Fair was another huge success and it was a pleasure to see so many customers.
EPE dominated the show with premium branded products and competitive prices on many products from our portfolio. Some of the Autumn Fair offer product lines had sold through within the first 2 hours, after the doors opened on the first day. Sales are up on last years Autumn Fair which is showing promising growth into the final quarter of 2016.
EPE look forward to seeing everyone again next year when they will return bigger and even better with further range expansions and more competitive prices.
Zanussi
ZANUSSI – ITALIAN SINCE 1916
In 1916, the enterprising young Antonio Zanussi began making stoves in North East Italy, and soon developed a range of inventive products. By the 1950s, under the guidance of Antonio's son Lino, the company was 300 men strong, and known throughout Europe for producing gas cookers far ahead of their time in terms of compactness, performance and ease of use.
In the 1980s, Zanussi became part of the Electrolux AB Stockholm, whose investment has helped Zanussi continue to develop appliances with Italian design flair, and quality. So you can rely on them to make taking care of the chores as easy as possible… and get on with enjoying life.
EVERYTHING MADE EASIER – WITH A LITTLE ITALIAN FLAIR
At Zanussi, our outlook is simple: time's precious, enjoy it! To help you live life to the full, here's our range of free-standing appliances, designed to fit beautifully into your kitchen or utility room.
Just choose whichever you need from our surprisingly affordable range, and they'll take care of your daily chores – reliably and in style – so you can get on with doing the things you really enjoy. Follow the colour-coded sections to find the kinds of appliances you're looking for and the at-a-glance overviews to find just the right solutions to make your life easier… simple!
Wahl
Wahl today
Wahl Clipper Corporation is now an international industry leader in the manufacturing of products for the professional beauty and barber salon trade, consumer personal care and animal grooming. Headquartered in Sterling, Ill., Wahl currently employs some 2,000 people worldwide in Argentina, Australia, Brazil, Canada, China, England, Germany, Holland, Hungary, Japan, Russia, South Africa, Spain and the United States. Wahl products are available in 165 countries around the world.
Wahl tomorrow
Under Greg Wahl`s leadership, the company sets its sights on Leading with vision, a new philosophy for the 21st Century. "To maintain our leadership position in the personal care categories we serve, we must have vision. Vision to continually improve our existing products. Vision to bring new products to market which meet the wants and needs of consumers. Vision to stay innovative and ahead of our competitors, and vision to support our customers, the retailers, with sales and marketing programs that make it easy, fun and profitable for them to sell more Wahl products. Leading with Vision means constantly being alert to new opportunities. By sharing the vision, we can make tomorrow absolutely extraordinary."
Varta
WELCOME TO VARTA CONSUMER BATTERIES!
You need flexibilty and independence? Then you live a lifestyle our products support. Whether you have a digital camera, MP3 player or portable playstation, VARTA Consumer Batteries, delivers precisely the right energy. For almost every need. And with a commitment to new, dynamic and high-performing innovations. Find out about our company, philosophy and innovative strength.
VARTA CONSUMER BATTERIES IS AUTHORIZED ECONOMIC OPERATOR (AEO)
Since 25 August 2011, VARTA has been certified as an "Authorized Economic Operator" (AEO) by German customs. Our AEO status now officially confirms our reliability and trustworthiness. Particularly for an internationally operating company such as VARTA, this is an added value that directly benefits our customers since our products can now reach them even faster.
New and substantial requirements arise from growing security needs and the goal of effectively protecting global supply chains from manufacturer to consumer. This led the World Customs Organization to develop standards for a secure global trade. One element of these measures is the certification as an Authorized Economic Operator (AEO) which verifies our reliability and trustworthiness and ensures expedited processing of customs formalities.
Rowenta
ENJOY TECHNOLOGY.
Since 1909, German brand Rowenta has captivated the most demanding consumers with high-quality products that guarantee perfect results.
Rowenta offers a wide range of products that combine unrivalled technological performance, refined design, and a high level of user-friendliness.
Its mission is to ensure the day-to-day well-being of its users thanks to intelligent solutions for vacuum cleaners, irons, steam generators, hair dryers and epilators. Ever the pioneer, Rowenta has worked for more than 10 years on developing eco-intelligent products. Faithful to its own values, the Rowenta brand has formed a partnership with the WWF to place eco-design at the forefront of its innovation process.
Remington
Remington helps you get ready with confidence. We produce a range of great products that help you transform your look.
Remington is not just about exceptional products, it is about the transformation those products can bring about. Remington can change the way you feel and the way you live your life by giving you the confidence that comes from looking your best and being ready for absolutely anything.
Our products are innovative, up to date and allow you to achieve the results you're after effectively and easily everyday. We cater for both men and women and have something for everyone. You can trust that with Remington you will always feel great when you step out the door.
Panasonic
Panasonic is committed to creating a better life and a better world, continuously contributing to the evolution of society and to the happiness of people around the globe.
Brand Slogan
A BETTER LIFE, A BETTER WORLD
James Martin Collection By Wahl
The James Martin Collection By Wahl
James was born in 1972 in Malton, Yorkshire. He was brought up on the Castle Howard estate where his father worked as a catering manager.  At 16 he began his formal training at Scarborough Technical College, where he was Student of the Year for three years running.
After catering college James went to work for Antony Worrall Thompson in the kitchens of One Ninety Queen's Gate in London. James went on to work for many leading chefs in London including Marco Pierre White. He then toured France, working in chateaux kitchens and gaining experience in Michelin star establishments. When he moved back to England, he took up a position as junior pastry chef at the acclaimed Chewton Glen.
James endorses a range of kitchen electrical appliances with Wahl, Each product has been thoroughly tested by James and is designed to his and Wahl's exacting specifications. Wahl and James are dedicated to bringing you high-quality products with different technology.
Hostess
In a Hostess Trolley or Buffet Server, the food is kept at a temperature such that it does not cook anymore, it is just kept hot without risk of drying out or spoiling.
You can keep most foods hot in a Hostess Trolley or Buffet Server for 2 hours or more, depending on the type of food. Some dishes, such as chilli, curry or casserole taste even better when kept for up to 4 hours.
George Foreman
FAT REDUCING GRILLS!
Our grills help make convenient, healthier cooking easier. Our recipes will deliver great tasting meals to suit everyone's taste buds!
Counter top grills, indoor/outdoor grills, contact roasters, fryers and portable gas grills that remove most of the fat from food.
Daewoo Electronics is an established world leader in the home electronics market.
Established in 1971, it has since grown into a global business with more than 64 production sites, R&D and sales centres in more than 40 countries worldwide. Daewoo Electronics Sales UK (DESUK) was established in November 1993.
With a comprehensive range of domestic appliances including  refrigeration, laundry, microwaves and floorcare, the options are vast.
Daewoo Electronics is a highly reputable household name that has built its reputation by developing high value products that people can trust. With a focus on quality, innovation and performance, Daewoo Electronics also prides itself on its customer care values.
If It Doesn't Say Crockpot It's Not The Original.
If It Doesn't Say Crockpot It's Not The Original.
It all started in 1970 with a simple bean-cooker. Over four decades later, with millions of Crock-Pots sold around the world; we have defined the perfect way of serving affordable, tender, nutritious and delicious meals to families and friends.
Welcome to Bosch
The Bosch Group is a leading global supplier of technology and services. The company employs around 375,000 associates worldwide (as of December 31, 2015) and has been present in the UK since 1898 when Robert Bosch opened his first overseas office, in London.
Our company operations are divided into four business sectors, namely; Mobility Solutions, Industrial Technology, Consumer Goods, and Energy and Building Technology.
Bosch improves quality of life worldwide with a manufacturing and sales network across 150 countries, providing products and services that are innovative and spark enthusiasm.
The internet of things offers us all huge opportunities, and Bosch has set itself the goal of becoming one of the leading global companies in this field.
About the Bionaire® Brand
Why Bionaire?
Pure quality. Innovative design. Advanced Technology. Experience Pure Indoor Living with the Bionaire® Brand. Offering an ideal balance of form and function, Bionaire® products help nurture and renew your well-being to transform your personal environment with purity and comfort. Indoor air quality and unpleasant home conditions are corrected for clean, controlled, more harmonious living.
Experience Pure Indoor Living with the Bionaire® Brand.
Overview
Pure perfection for pure life.A pioneer in its field, the Bionaire® brand believes that if there's a better way out there, it we will be the first to find it by imaginatively blending technology and nature, art and science. The Bionaire® brand relentlessly pursues pure perfection for all those who demand pure quality, pure design and pure simplicity in their home environment in the ultimate quest for pure indoor living.
Brand Innovations
Research & Development
The Bionaire® Research & Development team is inspired to create effective, high-performance products to make living in today's ever-changing environment clean and comfortable. Dozens of engineers, product managers and test staff spend thousands of hours researching and developing new products. These are our inventors, our innovators and our dreamers.
Product Design
The Bionaire® brand has earned its reputation of excellence through continuous improvements in design and technology. Exploring the world around us, analyzing home trends, tapping endless resources for design and technology inspiration are just some of the ways we deliver products that enhance your home environment. We analyze color trends to blend with room décor and ensure products complement your home in an understated manner. Our industrial design considers lines, textures and materials of other items in your home. We develop easy-to-read, simple-to-operate control panels because simplicity is the key to a peaceful life at home.
Permanent Air Purifier Filters
Our permanent air purifier filters outperform filter-less, fan-less air cleaners, being the first of its kind to offer HEPA-type filtration in a permanent filter that never has to be replaced. Simply vacuum the filter every 3 months and enjoy the benefit of HEPA-type filtration, which is up to 99.97% efficient in capturing pollen, dust, mould spores and pet dander particles as small as 0.3 microns from air passing through the filter.
Permanent Humidifier Filters
Our permanent humidifier filters use exclusive composite materials to help filter out mineral deposits found in the water in order to deliver cleaner moisture to your dry surroundings. These filters are very easy to clean, so you can breathe continuous, cleaner air.
Smart Heaters
Our innovative line of smart heaters revolutionizes the way you think about portable electric heaters. These Bionaire® heaters incorporate the most comprehensive package of features available, combining patent pending technologies with the innovation that you've come to expect from all Bionaire® heaters.
Wireless Climate Centre
The sensor in the wireless climate centre constantly monitors surrounding temperature, humidity level and air quality. Radio frequency technology sends continuous signals from the wireless sensor to the heater, humidifier or air purifier to maintain the proper settings and communicates from across the room.
Air Quality Sensor
Infrared optical sensors are used to detect tiny particles in the air – such as pollen, dust and smoke – and automatically adjust the speed of the air cleaner in response to air quality conditions, providing optimum filtration. This module is multi-functional and includes an alarm clock, illuminating air quality indicator and programmable/remote operation.
Digital Controls
You choose the temperature that defines warmth for you. You choose the humidity level that is most soothing for you. You choose the air quality level that brings you the highest level of comfort. The Bionaire® digital control panel displays the setting you select, as well as the current room condition. The backlit display is easy to read, and a nightlight feature is included on many models
Digital Thermostat
Set the temperature that's right for your room. The heater will cycle on and off to maintain your desired temperature, warming the room only to your specification. As an added feature, the current room temperature is always displayed, even when the heater is turned off.
Digital Humidistat
Select the humidity level that brings you the most comfort. The humidifier will cycle on and off to maintain your desired humidity level. The digital humidistat displays current room humidity level, even when the humidifier is turned off. A refill indicator light signifies when the reservoir needs to be filled with water to maintain optimal performance.
Filter Indicators
Humidifiers and Air Purifiers use filter service indicators to ensure the highest level of comfort and performance. A small light will illuminate indicating when it is time to replace the existing filter. This ensures the air cleaner is working at its optimal efficiency.