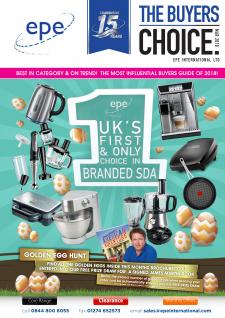 Monthly Promotions – The Buyers Choice
Monthly Promotions – The Buyers Choice
The new all in one buyers choice contains all of the reader's choices (buyers, coffee and heating), and contains our promotional savings and even more amazing deals. This monthly magazine has become a bible for many of our readers as each issue is packed full of valuable insightful information on the SDA market and gives our customers a high return on their purchase. After discussion with a handful of our most influential customers and associates it quickly became apparent that the next step towards growth and progress for EPE was to approach our brochures as a journal or editorial format including tips and market information that we consider essential for our independent & premium end retailers going forward in 2017.
A great brochure for industry news, updates, reviews, tips, recent events & articles as well as our exclusive deals! Do NOT miss out on the most influential, priced brochure in the industry!
Click here and send an email requesting your copy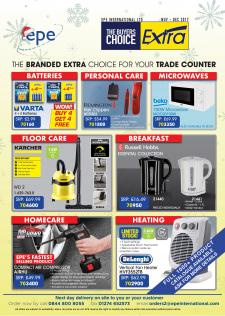 Bi-Monthly Promotions – Buyers Choice Extra
Bi-Monthly Promotions – The Buyers Choice Extra
The Buyers Choice Extra is a new bi-monthly promotion aimed at the Electrical Wholesale market.
Featuring our promotional savings and even more amazing deals on heating, breakfast, microwaves and much much more. Each issue features valuable key features and selling points for each product.
We know that contractors and builders can need electricals at the drop of a hat, we are here to give them that extra help with a large selection covering all areas they may need.
Click here and send an email requesting your copy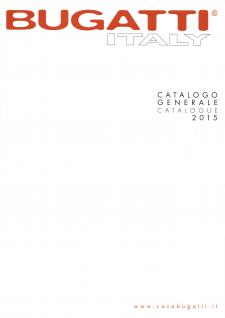 Bugatti Catalogue

Bugatti designs and manufactures products for the table and kitchen, cutlery and small household appliances that are highly innovative and have an original and sophisticated design. For 90 years, Bugatti proposals have been distinguished by the unique style in which high technology blends with
Italian taste for shapes and details; links with the territory and craft tradition live together with the eyes open to the contemporary world and its values; from experience sharing to environmental sustainability. This catalogue contains the entirety of the Bugatti range.
Click here or on the cover to see a preview
Click here and send an email requesting your copy